Okay so the past couple of weeks have been quite dry. Worship and intercession have been amazing, but we haven't been seeing a whole lot of things happen. Whether it be plans changing or translators not showing up...either way things have been slow. So we fasted on Tuesday and really sought after what God was saying. I mean we very well could be "planters" and we all understand that, but we had specifically gotten words from God before we left that we were to see fruits. So we spent a lot of our day praying, worshiping, and waiting on God. In the afternoon like every tuesday and thursday we take out youth to slums with us. Well after all our time of seeking God i feel like tuesday was a major breakthrough. The girls in my group were actually understanding that i wasn't going to do everything that it was about God using them as well. We ended up praying for a boy with hearing problems and met his mom and talked with her for a couple of hours. Nothing major happened but the atmosphere was just different.
But right before we took the youth out we also bought our food for the day and handed it out to people we felt led to give it to. My group ended up meeting this man that speaks Arabic and English. We had our new guy with us Akrum who's from egypt (hes only with us for a little while). We met him right out side of a mosk. He didn't really need the food but it defiantly blessed him. Akrum shared with him in Arabic to ask God to reveal himself to him in ways he never thought possible, the guy was taking it all in. (I had no idea what they were talking about, since it was in another language) I ended up asking him if i could pray for him. It was a blessing to see him receive it all so much. We exchanged numbers and hope to meet up and talk more with him.
Anyways good encounters. Wednesday (today) we started painting a mural. (defiantly making it up as we go along!! haha. But it was fun everyone kinda got to see me in a whole new way. after the base colors were on i went back after people and threw random colors on there for highlights and shadow...lets say i had to assign someone to open paint cans and close them, paint was flying it was fun/stress full/stretching. Teaching people how to paint for the first time..and i hardly knew what i was doing.
Okay last STORY! Tonight we had team time..Both teams that live together we had a dessert off! we were split in groups to prepare dessert for everyone to see what was the best. here's the results...
Presentation: Thai rice thing (MY GROUP..sticky rice cooked with coconut milk, strawberry or mango on top and a sugar glace over it. served on banana leafs)
Texture: Truffle (it was like layered pudding goodness with chocolate strawberries and cake)
Wow Factor: Chocolate Shots (Chocolate crumbs, fudge, more chocolate, chocolate whip cream)
Creativity: Fried bananas (with ice cream and strawberries)
Flavor: Truffle

It was a fun and we all ate wayyy to much =]

here's two photos from My day off in Mannga Dua (means two mango's)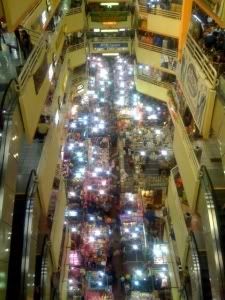 Did i mention i learned to bargain like crazy here..my advice for bargaining!!!
1. Start with half of what they offer.
2. Slowly work your way up to what you want to pay.
3. Once you reach that they usually will say noooo this is my final offer.
4. You say...ohh Wellll maybe i'll come back..start to turn around (slowly) and take a few steps..(sometimes you don't even have to start walking) They will GIVE IN!

Works every time!! =]

here's a picture of Amanda and I in the taxi!