Jenna Dear is back in America!

After long long flights and exhausting 33 hours of flying i landed in Pasco, Washington to this =]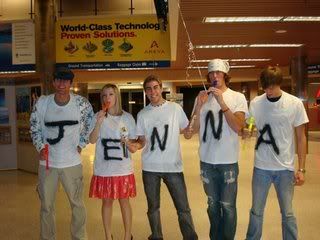 I love my friends! I got the chance to go to Portland to see Amanda and Natalie (from dts). Amanda put on an art show for a trip shes planning back to Indonesia! Seriously 3 hour drive and time to think was definantly what i needed! I dont think i've ever spent so much time alone and home! Can you blame me?? I've gone 6 months with NOOO alone time! Ha Well its good i'm gettin use to just studying or spending time with Jesus! Hes been showing me lots and helping me adjust to this awkward-ness! The awkwarness of large groups, old friends, and random "americans". I think that has been some of the biggest shocks for me. I knew americans western countries were selfish, but OH my Gosh!! Not everyone obviously but a majority..its incredible i've been shocked many times by reactions of people or the way people are soo involved in there own lifes and wont even look at you and smile. I was so excited when i was waiting in line for coffee and someone else smiled at me and made a random comment..for once it wasnt me! =] Made my day!!

So i've been home 3 weeks now. Ive had sooo much alone time its ridiculous..i think my parents thought i was locking myself in my room hah! Just spending time with God! But i'm pretty sure its time i step out now. I'm hoping to get more involved in youth group and hopefully get to pour out my heart to young women. And Evangelize. Going from evangelizing 24/7 to being alone in your room...very different!! So ya Gods teaching me to love this city and have a heart for the people here! This next season looks like its gonna be a ride =]

Oh and i'd like to have a night with photos from my trip and possibly indonesian food and well just a hang out...if your interested let me know your more than welcome to come!!