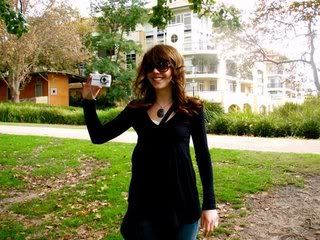 HELLO
GAHH! 2 weeks left until i leave for My adventure!! OH my gosh i'm sooo excited!! I cant even begin to tell everyone how much has been going on here. We have had endless hours of praying for finaces and seeing amazing things happen!

I can thank all of you that have sent money to me! You truly have blessed me in so many ways that i can't even express in words!!! Thankyou all for you prayers and support. God is going to do amazing things!! Even just this week our group had time of unity! Basically our leader felt that we were in a line (army line) but some of us were behind the line and some of us were ahead of the line. And we need to pray about where we were at in the line. For me personally i felt like God was saying i was in line and he had me where he wanted me, but that wasnt what was important. That i wasn't looking to my left or right. That i was withdrawing the gifts God has giving me. And it was holding back from the group. So we got in a big circle and everyone explained out loud where they were at to everyone. It was really powerful, somepeople were crying and others were repenting. It brought so much unity as a group and i honestly believe some major breakthrough happened!

At the same time this week God has also been revealing to me how important my sensativity is. And how i've tried over the years to ignore and push my feelings away, when God created me to sensative. For example some drunk guy jumped onto the train tracks last sunday night and these two cops tackled him and were being really rough and not soo nice. I honestly started to cry, just wondering what this guy was going through and in a nut shell i'm begining to feel Gods heart for people and learning to not only be sensative to his voice but to step out and speak outloud what he has to say!

Gods doing wonders in my life and everyone else here. Its amazing.
Here are some fun photos of last saturday night. We had a 50's night! Enjoy!



the set up...done by my class


Some of the boys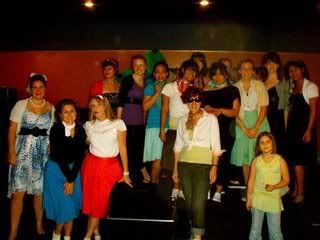 Some of the ladies


ME =]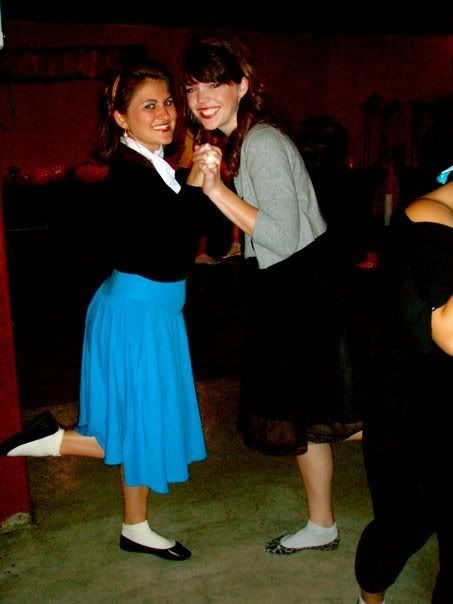 Michelle and I