The past week has literally been the slowest and quickest week in my entire life!!! I was really really sick thursday and friday..like running for the toilet sick..not so fun. I must have ate something bad..i dont know. Still kinda dealing with it here and there all day?! ahha it sucks. But whatever right!! (new saying..whatever) hah Its my way of saying "NOTHIN IS WHAT YOU EXPECT..in jcity!!!!" or "THIS is me adjusting and learning not to care...remeber we laid down our rights..to EVERYTHING?" haha

One of the biggest things i've learned is to have a good attitude even in the most fustrating situations...such as..everything taking sooo long!! But if you keep silent or posative..things always end up amazing and God does some incredible things!!

A few days that have once again..touched my heart through and through!!

Lets start with Wednesday...
It was one of those days where everthing takes soo dang long!! No indonesian can be ontime i swear!! haha Anyways we were taking out this youth group to my favorite slum. As soon as we get there they lead us to this ladies house.

This lady has always had heart problems and has a beautiful baby boy! Soo precious. Anyways i guess last time they went to her house as well and prayed for her. So we asked if we could pray for her again and if there was anything specific. She asked us if we could pray for her and her husbands relationship then began to tear up. She explained that since shes gotten sicker her husband has been more distant, but she cant say anything because he hasnt done anything specific just by his actions she doesnt feel that theres a whole lot of love there. So we all pray for her. But a few of us...(including myself) that cried while she was crying all while praying for her. It was incredible..i felt like i truly felt her pain! I mean i could relate a little with past relationships but nothing compared to what she was feeling. we ended up gettin to share that God is perfect love and that we are created to be fufilled by that perfect love and no one on this earth can possibly fufill that hole. Even with the most amazing husband. She really recieved it..i cant wait to talk with her next week.

Sunday...
ohhh sunday was a day i know i will never forget for the rest of my life!! So Sunday was Independence Day!! We were invited to a community to celibrate..they asked us if 5 could dress up in traditional wear. I was still feeling sick so i got out of it. So we met at this community at 8am...waited for the 5 to get ready and Ohh suprise...we are in a PARADE!! haha Yes a 2 hour walk in the blazing sun!! here let me just show you pictures =] haha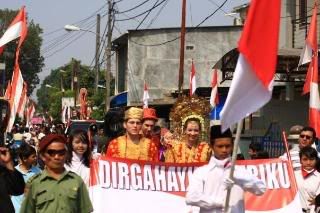 yep we were in a parade..i wasnt feeling good so i luckily didnt have to dress up!! hahahah but i walked with little girls that were dressed up.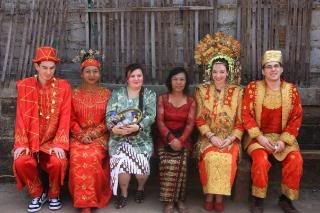 Shaun, Tiffany, Autumn, some lady, Sarah, David!
I'm so proud of them..it was soo hott!! And we all laughed soo hard at them!!!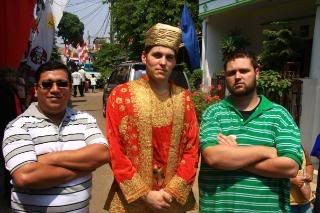 Akrum (he was with us for only a month..amazing guy from egypt), David, Ben


Monday...
So mondays are usually our days off, but this monday was The Call! It started at 9am and was to go to 9pm! Little did we know...it wasnt translated..ha So the day was quite boring we got to leave for a long lunch break and dinner break..but at the end around 9ish. they finally started to play English worship songs..so i convinced my friend becca to go down and dance/worship. It ended up only being four of us that went down there...soo much fun. We met some really amazing indonesians that taught us traditional dances all while worshiping God is was SOO Much fun!!!!

Friday...
This one is short but i like this story..so today =] I got this word for a guy who was sorting out this pile of black stuff trying to find metal to recycle for money. (its his job..to go through garbage and make money off recyling) crazy hey! Anyways he was probably 19 years old. And i knew that God wanted to remind him to hold on to his dreams. And to remember that what he dreamt of as a little boy can come true and to not loose hope. Soo im like easy enough..get a translator go talk to him. I grabbed one of the girls that was with me..she went down to the water where he was with me and as soon as she said hello he turned and walked away. Ignoring us. soo We tried to approach him again he walked away. And i knew i HAD to give him this word. So i ask the youth group leader who did a dts at perth to help me out. So he tries the guy kinda ignores him. Anyways the youth group leader ends up grabbin him later and talks to him for atleast 15 min then motions me over. I walk over the guy is crying and Tommy (youth group leader) is like i told him what God told you and is there anything else you want to say? I was like WHOA?!? haha so we chated for alittle while i guess this Guy hated that he still lived in this recycling dump and he wants a good job and has big dreams and i ended the conversation with God sent us today to tell him to not loose hope and tears again...precious guy! Heri was his name...you can pray for him! I'm sure i'll see him next week though.



what a week. So this blog took me like three days to write hhaha many things have already changed. I'm soo excited about the seeds God is allowing us to plant (thanks lynn) Seriously we may not be reaping..but i KNOW peoples hearts are getting touched..including mine! I love these people...but four weeks...I'm SO excited to go home!!!!!!!!!!!!!!!!!!! AHH!! haha

I mean i love it here but i know that this is only a season and this lifestyle is not reality. I'm excited to make this evangelism thing (that i now understand) a lifestyle..No worries no bible beating..i still hate that!! haha But i actually have a heart for people who dont know God now! I understand his love, him dying for us.....I get the great commission! I get it...

So watch out tricities...I've learned its not about me and i'm done holding back =]